Christmas Eve has many of its own customs, some open gifts the 24th of December, watch movies, go to church while others will favour the 25th or do a lot of last minute preparations on the eve of Christmas. It is true that every family has their own traditions that they look forward to every year. But one thing is for certain, whatever your tradition, on Christmas Eve, friends and families will gather for the long awaited Christmas Eve dinner. The anticipation of that family celebration can be overwhelming to plan, but we've prepared for you some useful tips to start planning and create the most gorgeous Christmas Eve Dinner.
1. Set the table
Decorating for Christmas is one of the most universal ways that we all celebrate the holiday. Christmas Decorations may be one of the most memorable childhood experiences and joyful aspects of Christmas for anyone of any age. With so much of the festive season and the 24th of December centered around food and drink, setting the table is key to creating a wonderful Christmas atmosphere. Spruce up your regular table by draping it with a linen table cloth, add some wintry florals and greenery before finishing with some high candles sticks for ambiance. Choose a colour palette you love such as red & gold or green & silver and use that as a start to get creative in your table decorating from matching napkins and coasters to festive glassware! Check out our blog about How to set a Christmas Table for more details!
2. Prepare a Delicious Menu
Now that you have the look done, take care of people's apetites, there is nothing quite like a traditional Christmas dinner shared with family and close friends. Some of the most tasty Christmas dishes are only eaten on this holiday, so it is important to get them right! Once again every family will have their own culinary favourites but here is some inspiration for the "plat du jour". We've put up some scrumptious ideas for Christmas recipes for you to try out this year: starter, main courses, side dishes, and deserts! It's okay that these dishes take a little extra time and effort to make it to the table. It's part of the celebration! The point of a holiday feast, anyway, is to slow down and enjoy the cooking as well as the eating.
Starter
Pan-seared foie gras
Pan-seared foie gras is an elegant appetizer made with foie gras, a grapefruit-Chardonnay sauce, and apple purée. Superb for when you feel like going fancy. And it's easier than you think to make.
Main Course
Roasted Chicken with Rosemary
They say that chicken is at its perfection when it melts in your mouth. Likewise, the key to a delicious and tender roast chicken is ensuring the meat is fresh, and seasoned well. The longer it is marinated, the better. It is a simple recipe that doesn't call for too many ingredients most of the flavor comes from the garlic, along with a bit of butter, doesn't take too long, and comes out with the kind of crispy skin that chicken thighs were born to bear proudly.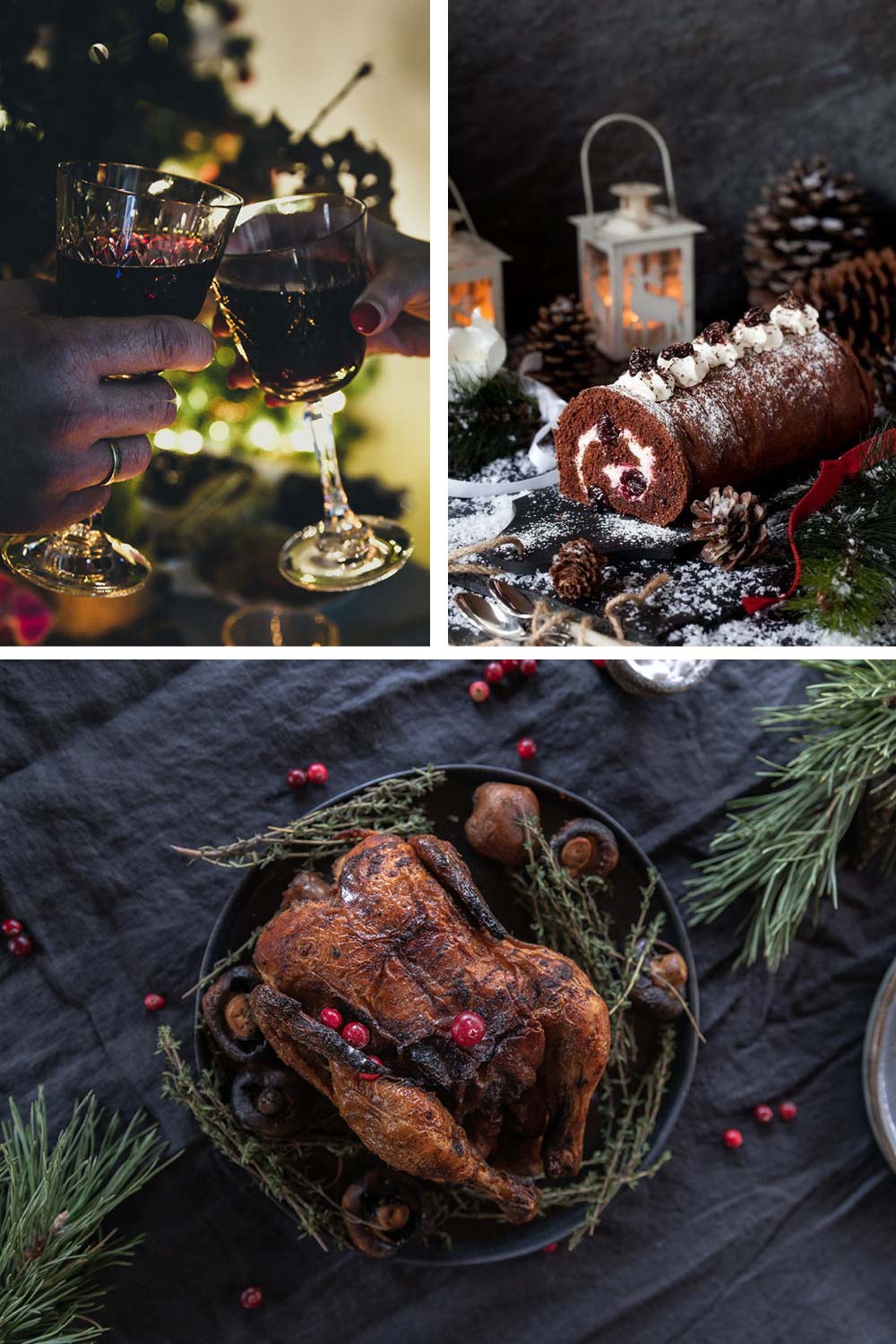 Rack of Lamb
When you want to wow everyone at Christmas dinner, serve this elegant, impressive cut of meat as your main course. Tender, juicy rack of lamb not only looks fabulous on your holiday table, but it's also easy to make, so you'll earn kudos as a chef without having to try too hard.
This rack of lamb features the classic combination of Dijon mustard along with an herb-and-breadcrumb crust. This rack of lamb is a go-to dish for special occasions or holiday feasts. It's easy to make, fast to cook, and a very impressive centerpiece.
Dessert
Christmas cookies
Take a break from the Christmas madness to make Christmas Cookies! Sugar cookies are a classic biscuit that are made for cutting out shapes because they hold their shape perfectly when baked. Have a look at our Christmas Cookies recipe.
Chocolate Bûche de Noël
Buche de Noel is the French name for a Christmas cake shaped like a log. This one is a heavenly flourless chocolate cake rolled with chocolate whipped cream. Traditionally, it is decorated with confectioner's sugar to resemble snow on a Yule log. Bûche de Noël, is the main star on the Christmas dining table.
3. Create a good playlist for the night. 
To get everyone in the Christmas mood at the beginning of the evening, put on a jolly tune on! The holiday spirit will be instantaneous with some of those favourite Christmas songs, put together a playlist a few days before to ensure that you have all the classics playing that night well into the dinner time. We personally can't get enough of this classics Christmas playlist…
5. Find the perfect gift for everyone
As the saying goes, it's better to give than to receive. Have fun thinking about what to give your family, friends, and whomever else is lucky enough to get on your list. Some very smart shoppers buy their gifts during the sales. This is the perfect opportunity to stock up on a whole host of presents. Finding the right gift for someone may be difficult but you can search for online gift guides to help you through the process. Do your research thoroughly. Write down your ideas to ensure that you don't miss anyone. Taking your time will really help you choose presents wisely and carefully and you won't have to worry about delivery times. It is a great way to get into the Christmas spirit!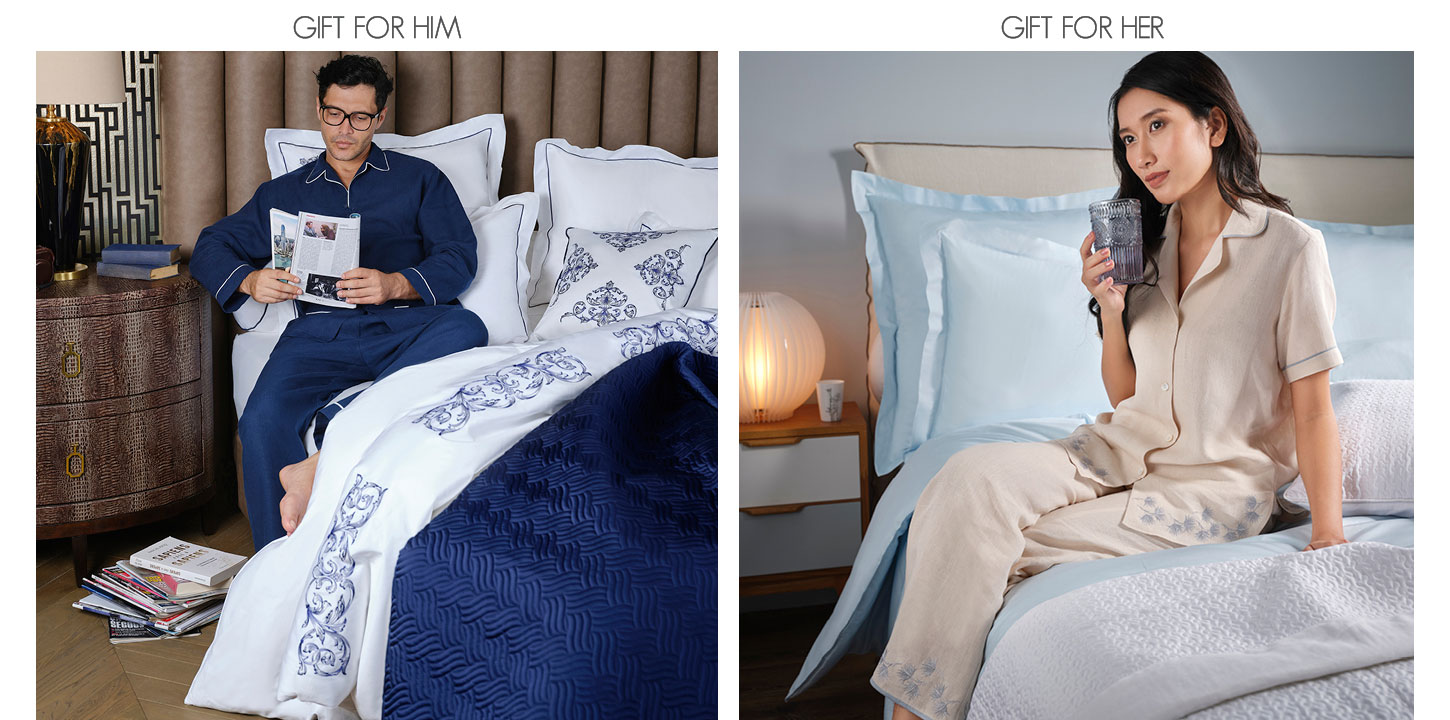 Having all the presents under the Christmas tree on Christmas eve is such a precious feeling. Everyone has a name tag and all are included to feel special, here is gift ideas we love for each family member:
Make sure the presentation looks as great as what's inside your present with all of our best tips on how to wrap gifts. Wrap your early bird gifts with free Christmas wrapping paper at our store, the secret is in the rubbings!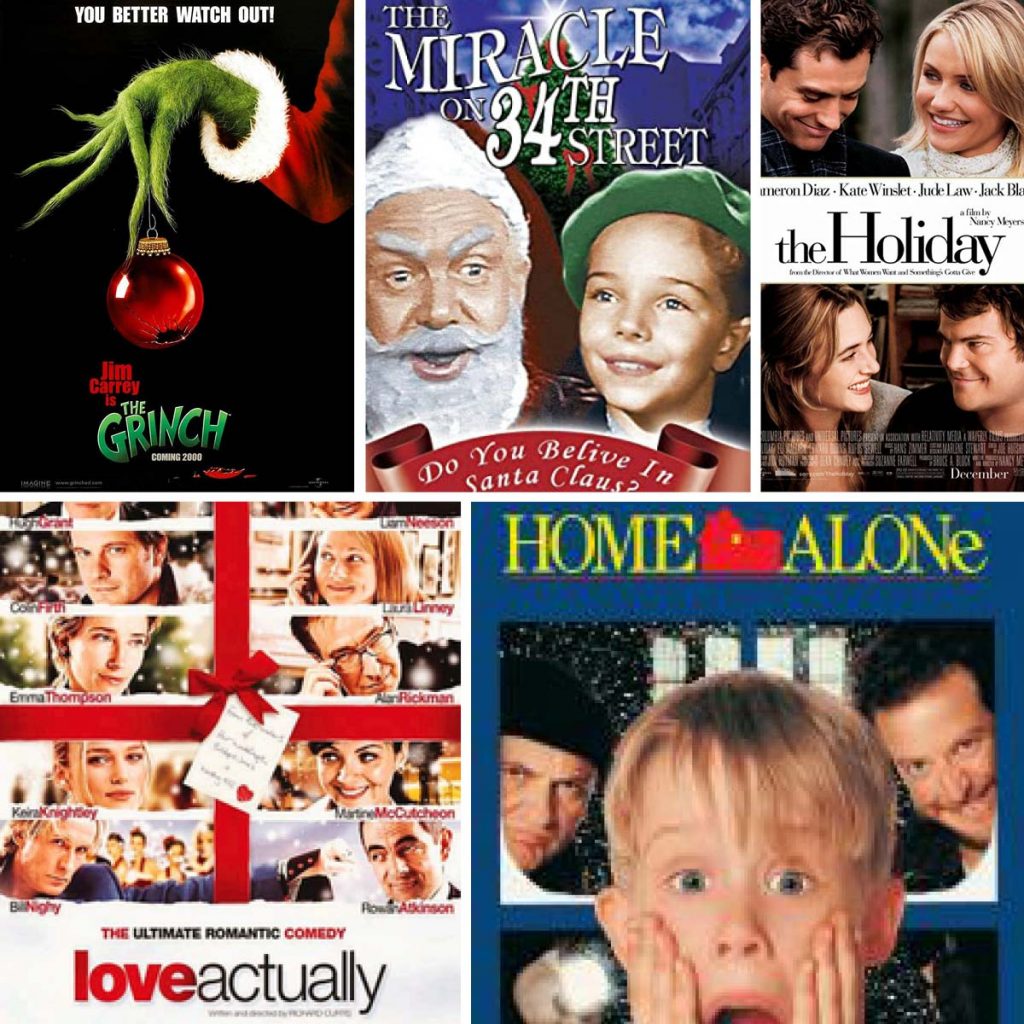 5. Watch a Christmas classic after dinner
Cozy up with the whole family to watch these Christmas movies! There's a huge variety of family-friendly Christmas movies, from animated feature-length films to funny holiday rom-coms. Get a nice linen blanket, a hot cup of tea, some sweet snacks and cosy up on the sofa with those time honoured classics for the cosiest Christmas eve. Check out our list of favourite festive movies:
Love Actually : For those who love romantic comedy!
Christmas (and romance) are all around when you watch Love Actually. Set in the weeks leading up to the holiday, the film weaves together several stories that touch on different kinds of love, ranging from a first crush to a heartbreaking betrayal to abiding friendship. And the bonus is that the vignettes are connected!
Miracle on 34th Street: For a vintage christmas vibe
This story of a department store Santa named Kris Kringle, and the no-nonsense mother and daughter who come to believe in him, starts off with the Macy's Thanksgiving Day Parade, with an emphasis on the power of kindness and the willingness to believe, even just a little, in magic. This beautiful film is perfect for starting your Christmas off right. If you don't melt when Wood pulls Gwenn's beard, the courtroom scene will get you.
The Holidays:
Nancy Meyers' holiday rom com follows Kate Winslet and Cameron Diaz, who swap their houses in London and Los Angeles, respectively, over the holidays to escape recent heartbreak. Neither of the women are looking for romance. So, of course, they both fall unexpectedly in love during their trips across the pond, one with a goofy and sweet film composer (Jack Black) and the other with a handsome widower (Jude Law) and his two young daughters.
The Grinch : A family type of movie so you can watch with your kids…
The Grinch tells the story of a cynical grump who goes on a mission to steal Christmas, only to have his heart changed by a young girl's generous holiday spirit. Funny, heartwarming, and visually stunning, it's a universal story about the spirit of Christmas and the indomitable power of optimism. Academy Award nominee Benedict Cumberbatch lends his voice to the infamous Grinch, who lives a solitary life inside a cave on Mt. Crumpet with only his loyal dog, Max, for company. With a cave rigged with inventions and contraptions for his day-to-day needs, the Grinch only sees his neighbors in Whoville when he runs out of food. Each year at Christmas they disrupt his tranquil solitude with their increasingly bigger, brighter, and louder celebrations. When the Whos declare they are going to make Christmas three times bigger this year, the Grinch …
Home Alone: Because it never gets old
You all need to know that Home Alone is a hit 1990! It is a classic that will surely put you in a festive mood. In the winter of 1990, the McCallisters plan a trip to France. But on the day of departure, they rush to the airport and accidentally leave their naughty 8-year-old son Kevin behind. Kevin enjoys his freedom to the fullest, but soon discovers that his house is in danger of being robbed. He then becomes a hero to protect the household.