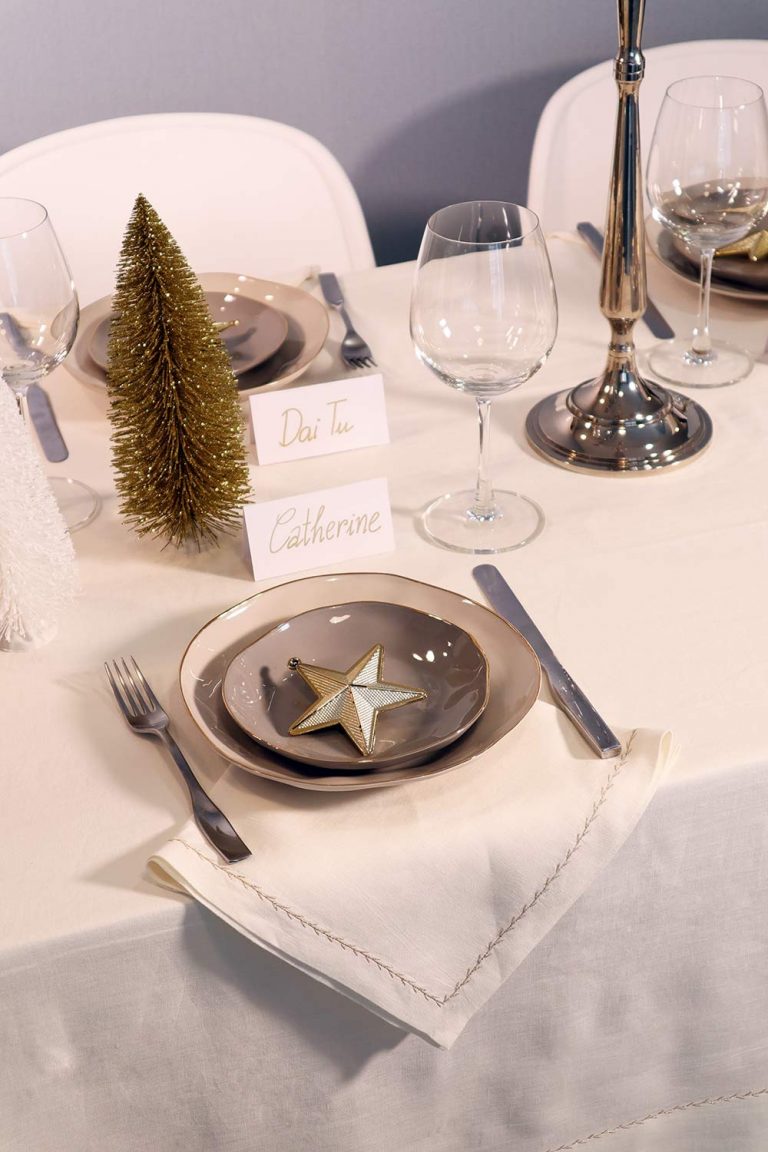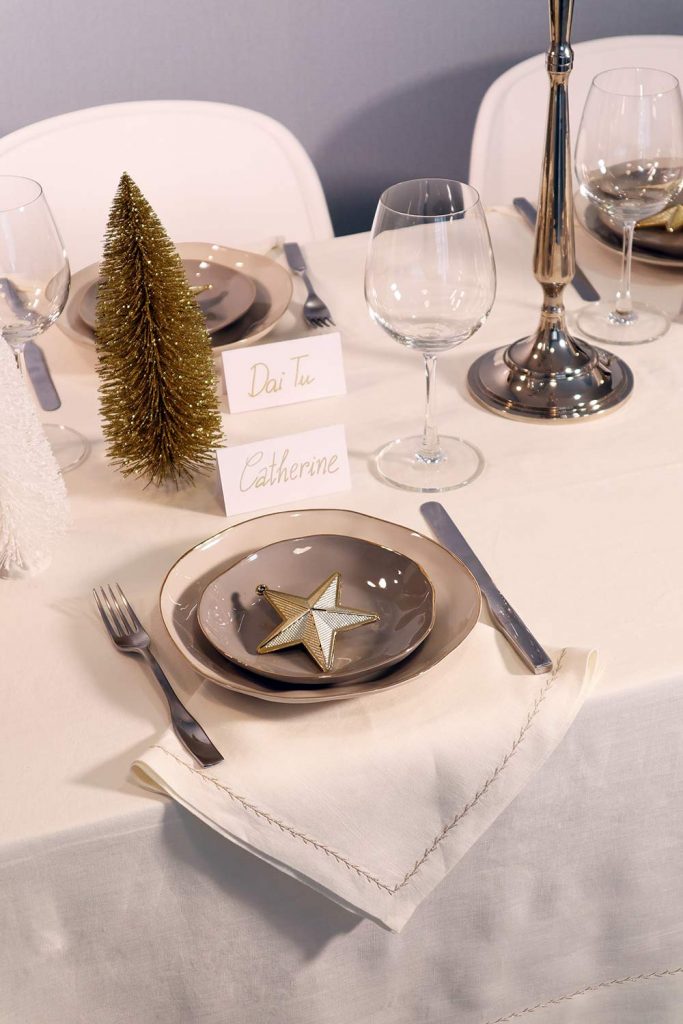 1. Pick a theme for your Christmas table
Before you get started and launch yourself into decorating, we advise you to take a moment and choose a theme for your table. Look closely at your dining room, what colour are the walls, what shape is your table and what do you have available on hand. This will ensure that you have a clear and achievable plan! The easiest way to set a theme is to select one or two colours that match with your interiors and stick with those. Then when decorating you can make sure whatever accessories go on the table that they follow that colour code. We personally love a simple and chic white & gold theme. It is not challenging to achieve and the gold aspect guarantees that festive feel. When picking your theme, the sky is the limit and let your imagination run wild. Classic Christmas themes can be ruby reds, or winter wonderland, silver Christmas, woodland greens and so much more.
2. Personalised Place Settings
Christmas is about gathering loved ones together and cherishing these times together, sharing food and enjoying each other's company. One of our favourite way to make everyone feel extra special is with a personalised place setting. All you have to do is create little name tags for everyone, this way all your guests will have their name and assigned place at the table. The name tag can be achieved in so many fun and creative ways. Depending on how ambitious you are, the name tags could be embroidered directly onto each guest's napkins, they could be painted or even written on glass or simply written on beautiful card paper. For the classic way, get your DIY spirit out and find some very simple cards, then with your most beautiful hand writing write each person's name. if you don't have a nice calligraphy enlist the help of a friend! You can also get creative with how to place the name cards on each table setting, from tied to the cutlery with gold string to wrapped around the napkin to the top of the placemat or hanging with ribbon from the Champagne flute or set up on a pine cone, anything goes!
3. Create Height
To make your table that much more striking, we suggest that you should create different heights on your table plan. From an aesthetics point of view, high candelabras or floral bouquets can look gorgeous but you also have to be mindful, there is nothing more frustrating than sitting down and realizing that you cannot see the person across from you because of an unfit decoration piece. Besides high centrepieces, you can use flowers to decorate your table but remember to make a low bouquet so you can easily catch up with your favourite person across from you. Also, if your dinner has sauces involved, consider some small and pretty bowls for sauces instead of big bottles of ketchup in the middle of the table. By varying the height of objects, you prevent the tablespace from looking flat or avoid blocking your guests' view.
4. Candlelight
Nothing says Christmas like a candle burning, there is something about an open flame that brings out those cosy vibes immediately. Christmas brings about all these cosy feelings naturally because it is synonymous with family, comfort food, special home moments, so to create a warm and inviting table we highly recommend adding a few candles. Make it interesting by putting your candles on top of bronze or copper trays, this will keep candles in one area in a neat spot and also create a decorative focal point. To make it striking we also advise putting different heights of candles and also placing them in votive or candelabras for that luxe look.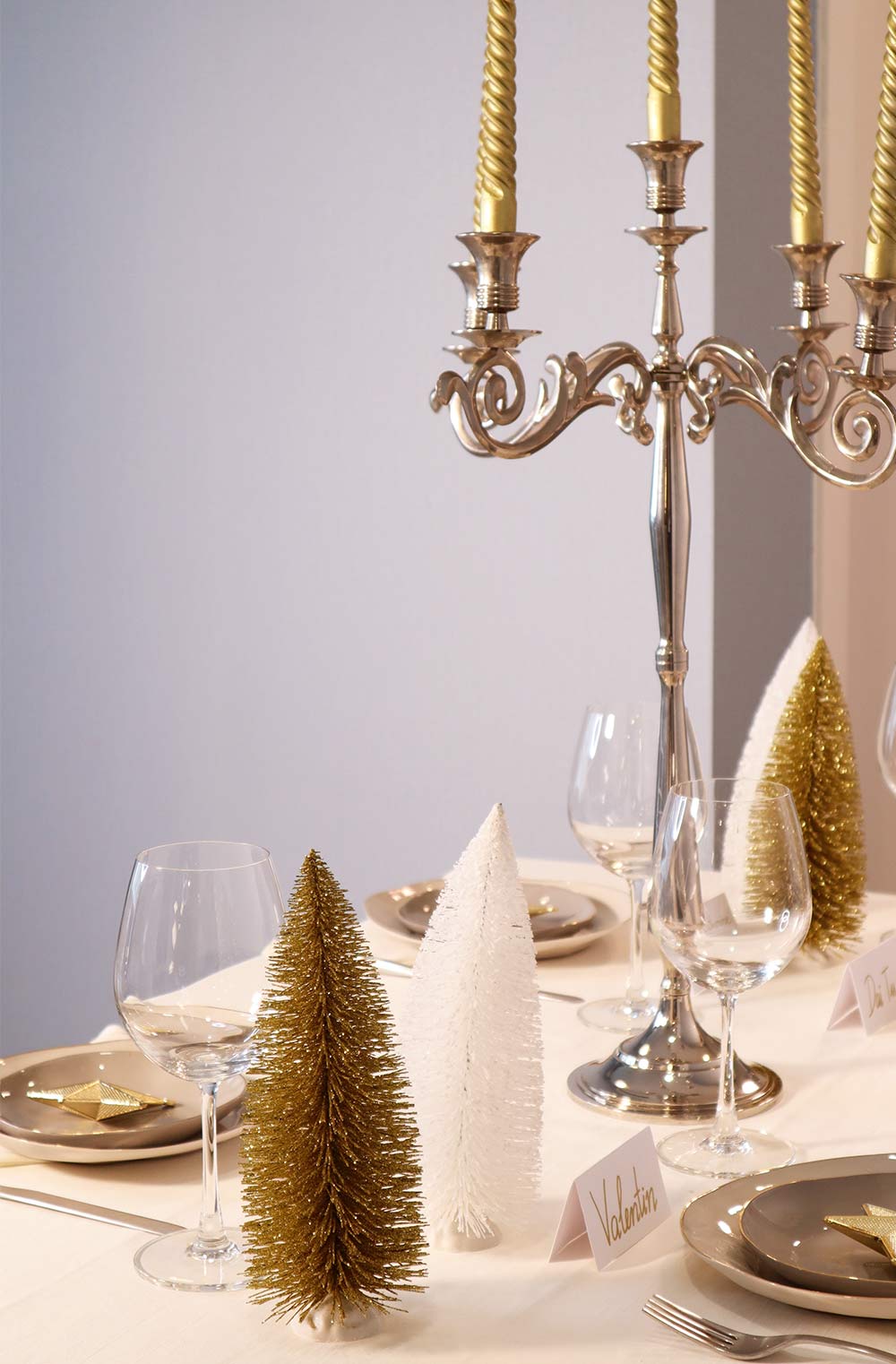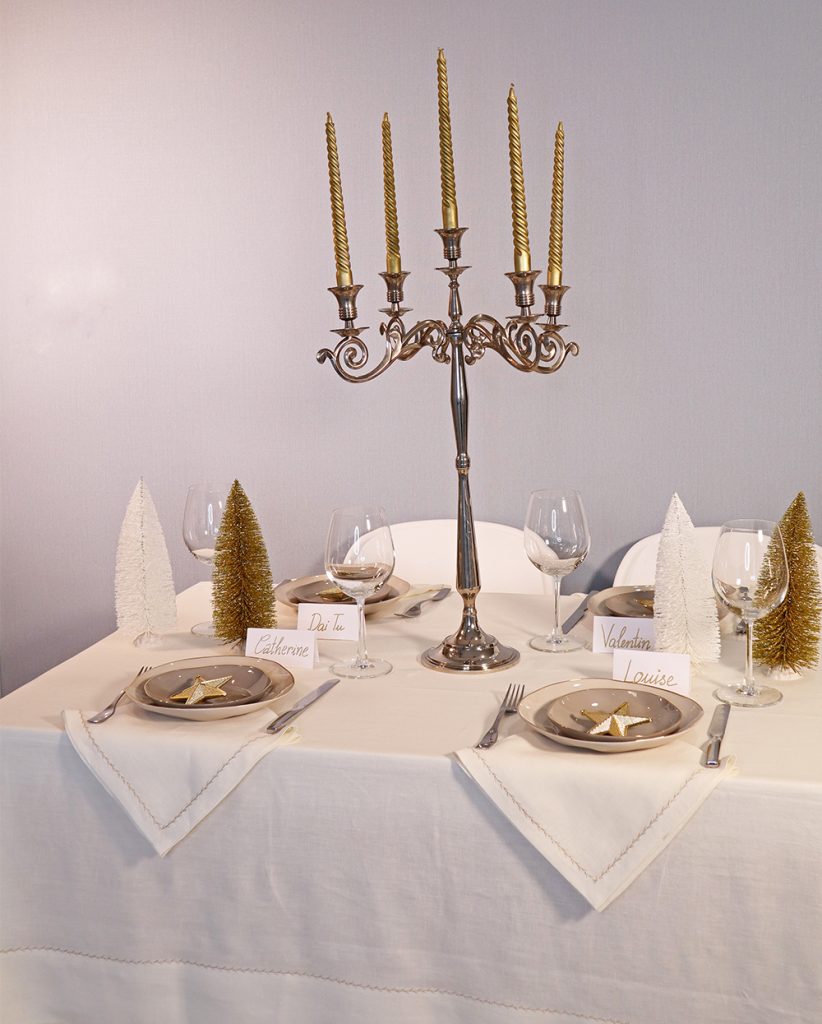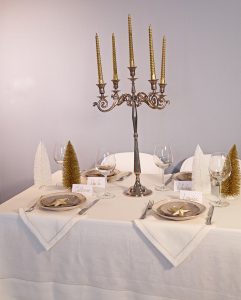 5. Coordinated table linens
Once you have picked your theme for your table, one key element should be added to your table:  beautiful Table Linens. Whether you like a simple table runner and small cocktail napkin combo or a more sophisticated table cloth and napkin service; these are a must to create a festive look for your lovely guests. Our number one advice is to get rid of paper napkins which are not environmentally friendly and invest in a beautiful set of 6 napkins or set of 8 to 12 napkins depending on your guest numbers. Napkins are the easiest table linen to use and make your setting look instantly fancy! Place one napkin on each plate or under your chosen cutlery to complete the tableware. Personally, we love napkins and table cloths made from 100% stone washed linen because it is so soft, fluid and easy to wash. For the white and gold look, we love our Rosely or Herringbone design, they both have lovely metallic thread embroidery. It is discreet, sophisticated and festive all at the same time, the perfect set for a Christmas style!
6. Festive food & drinks to dazzle eyes and tastebuds
Every family has their very own traditions around Christmas, it could be a special dish, a favourite movie, a dress code: to each his own! But one thing is for sure, everyone has their favourite food for Christmas so this year bring your favourite recipes to the next level by simply decorating your dishes appropriately! Serve your roast in a serving plate coordinated with your table colour scheme and dress your side dishes on gold or metallic trays for that jolly element. For drinks, whether you are serving eggnog or making cranberry inspired cocktails, add that dazzling factor with some icing sugar for a snow effect or a mistletoe garnish.