To match a diversity of spaces and look good in any environment, experts would suggest is White; an impartial, independent and neutral hue, that goes well with all colours and styles. It can amplify or simplify a room, and add freshness immediately. Whatever your home decor style is, white will find its place. Here are some gorgeous home inspirations of how white is seamlessly incorporated into each living space.
1. Contemporary | Trendy
For this look, it's all about sleek curves and fluidity. A unique centrepiece or a small cluster of objects in an otherwise airy room is how to best achieve this style. Like Catherine's bathtub, it stands alone featured almost as an art piece and surrounded by white marble and silver fixtures; the space breathes! Who wouldn't want to take a dip in that gorgeous tub, perfect for an evening soak with a glass of bubbly and the soothing fragrance from a freshly lit scented candle.
2. Scandinavian | Minimalistic
For Scandi lovers, who enjoy a minimalist footprint, unique angled designs, simple lines and functionality, are on the menu. While the colour palette favours tones of teal, grey and beige in the furniture, but white is quintessential in the interiors. From white walls, to fabrics; white is often the base for everything in Scandinavian homes and natural earthy tones are used to furnish and decorate.
3. Shabby Chic | Ornate
If you are someone who likes including history to your style, White can be a great addition to maintain the chic balance between old and new. You can incorporate white in many ways while still playing with colours. A crisp or crisp white quilted bed cover on the bed but with a ornate carpet like in Catherine's bedroom look and curtained headboard. Shabby chic is all about the balance, going heavier on accessories but using a neutral palette throughout.
4. Art Deco – Historical
Art Deco is all about glamour, bringing the roaring 20's vibe to a space. From decadent detail work, to exuberant geometric shapes, bold wall covering or a statement chair, it is a kind of interior that still transcends today. You could go as heavy on the look or as a little touch to achieve this fun and striking style. Like Catherine's guest bathroom, an art deco gold mirror found in an antique flea markets of Paris is the statement piece of the space. But matched against an otherwise pure white mosaic wall and crisp white bathroom counter to soften the look.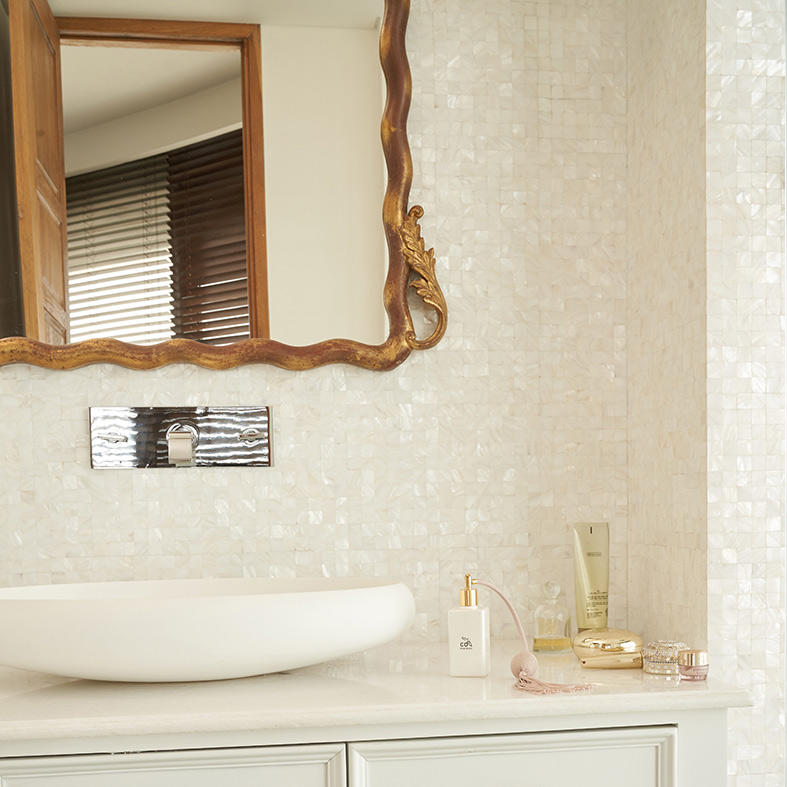 5. Country Style – Rustic
Reconverted farmhouses, country cottages and rustic cabins are where you will find the inviting and warm spirit that embodies the Country look. Use rich woods and warm toned upholstery, this style is all about a cosy atmosphere. Often seen in vacation homes, it is thus an ode to comfort and relaxation. Like this gorgeous Hamptons home, the designer has perfectly balanced darker wood furniture paired with White and Cream to dress this high ceilinged bright white living room.