This summer for us is all about Staycations and short Weekend Getaways! Without spending too much time on travelling, you can enjoy and optimise your time with mini vacations at hotels or resorts in your city or opt for a road trip to a neighbouring area. Wherever you choose to stay, the important thing is that you relax, unwind, and although close to home still feel like you are a world away. We have rounded up 5 tips to help you enjoy the ultimate staycation. In these useful guides, you can recharge your batteries and have a blissful summer holiday no matter the place.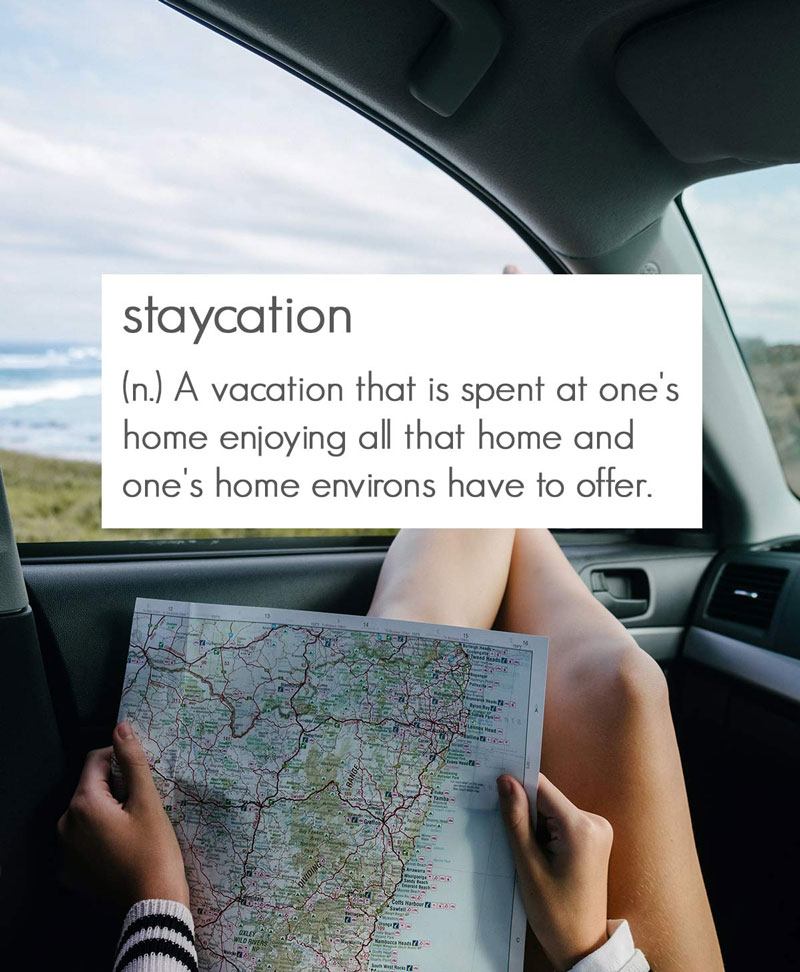 1. Plan ahead like you would on a normal holiday abroad
The trick to enjoying a staycation is to carefully plan everything ahead to help you enjoy your time off and truly make it feel like a vacation. Of course, it's not necessary to begin planning more than 3 months in advance like you would often do on your normal holiday abroad. But start by asking yourself what you would prefer doing, getting pampered in a hotel spa near you or getting a bit farther away for a few days in the countryside. Once you've established the where, researching hotels or resorts based on your budget and location. In these uncertain times, finding good deals and prices may actually be easier so we suggest you to call the property directly for best deals. The hotel will also know great info about the kind of activities you could do around their property. This will help you figure out how much time you can spend there and begin to get a clear picture of the whole trip. Independent research is also great, look for reviews or travel blogs to find those hidden gems that will make your trip more fun. On the other hand, if this summer you want to take time off but escape to your summer home or simply stay at home, read our blog A High-End Hotel Look For Your Bedroom for some ideas on how to transform your own bedroom to achieve a hotel vibe.
2. Try Something New
A staycation can be just as exciting as exploring a new place, this is the perfect opportunity to do things differently in your very own city. A dinner reservation to somewhere you've never been or joining a local event like a weekly farmer's market, or even visiting a museum that you haven't had the time to see. Check out your city's local press magazines or search online to see if your city is hosting any special events during your time off, perhaps something in the local park, outdoor activities or an art exhibit. Sometimes the best way to feel good on a vacation or staycation is to do something for someone else. It may be a neighborhood clean-up project, planting trees or joining charity activities like visiting local orphanages or nursing homes. Trying something new will spice up a regular staycation, by doing something a little outside the box it will feel like a new adventure. Stepping out of your regular routine is a great way to make your staycation more special and unforgettable.
3. Pack Smart with all your Favorite Travel Essentials
Packing for your staycation can be less frustrating than holidays in faraway lands because no flight and airlines restrictions means you can bring anything with you. However, this doesn't mean you should pack your entire closet. We believe smart packing with your favourite travel essentials will make your trip more comfortable & enjoyable. Start with things that you are comfortable in, like cosy joggers and a warm jumper, it might be a good idea to pack a few nightwear items.
You will find it more relaxing to wear your comfy pyjamas or feminine nightdress in your hotel room after a long day exploring around town. If you're sensitive to light and sound when you sleep, a sleeping eye mask and some earplugs for a deeper snooze are safe packing items. And if you are feeling really festive or going away with family or friends, you can even bring your own champagne or favourite bottle of wine with you! Pop the cork at sunset and unwind from your private balcony, you just need to ask the hotel for glasses and you're good to go. There are no rules on what to pack and what not to pack, just remember what you love to wear, what makes you feel comfortable and perhaps a fun factor like a good book or a deck of cards; whatever rocks your boat!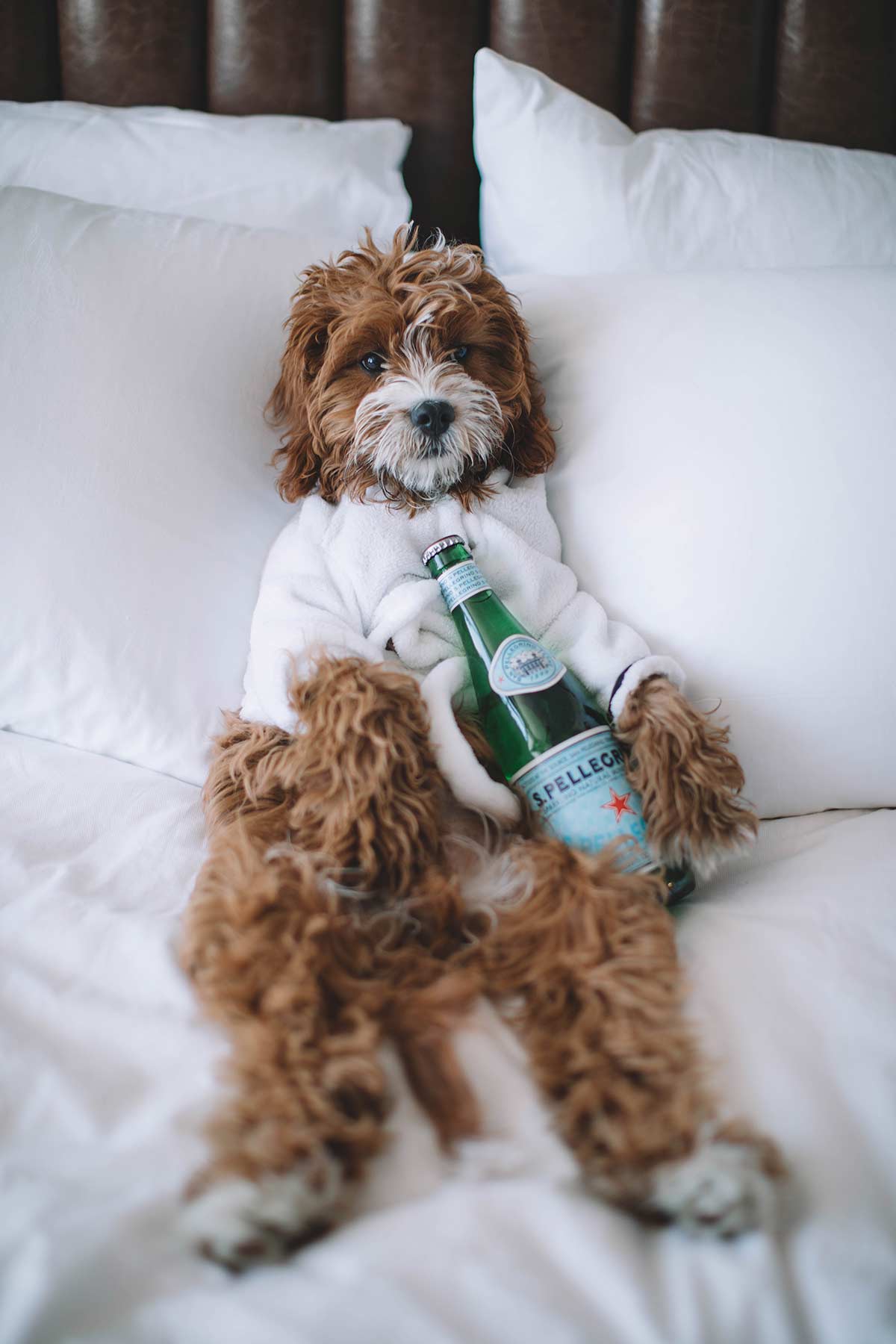 4. Focus on Activities that Relax you
Think about what you like to do on holidays every year and try to replicate this on your weekend getaway or staycation. Because what you've enjoyed in the past will bring you joy. The ultimate goal of a vacation is to recharge your batteries, so on this staycation focus on unwinding. Figure out what would make you happy whether that is going for a cycle in the countryside, putting your toes in the sand or enjoying the hotel spa, do what makes you feel good! You can even start small with simple things like unplugging from your phone, taking an afternoon nap, or reading a book at home or in your hotel room. If you're a food lover, take a city wide food tour to indulge yourself. If you love exercising outdoors, rent a bicycle or if you love wine perhaps go on a wine tasting at a nearby winery. It's all about you, you do you! This ensure you get the most out of your weekend away or staycation by doing things you love.
5. Be a "real" Tourist on your own Turf
Playing tourist in your own town can conjure up similar feelings of exploration that you'd experience in a far-off destination. Get creative to explore beautiful places which you haven't had the chance to discover before like public gardens or local national parks. We also love the idea to hopping in the car for a weekend getaway to somewhere nearby. Even a quick drive to a nearby town or even an unfamiliar suburb of your own city can make a fun adventure. It's a great chance to visit some local wineries, distilleries or factories to understand how things are made and support local businesses as well. You may also love to go a little further away to stroll through your nearest beach town or local farms. Get your spirit of adventure, and you may be surprised at what you'll find in your own backyard. Give it a chance and don't forget to take your camera and visit these places with new eyes!