Read on to see which textiles we have shortlisted to handle the summer days both for indoors and outdoors outfits and our favourite summer styles.
1. The best fabrics to wear in summer
Linen is one of the best summer fabrics! The natural fiber of linen holds fantastic properties for staying cool on hot days. Linen is a loosely woven fabric which allows heat to escape from the body, absorbs moisture and dries quickly. The texture is of this fabric is light, soft and comfortable to touch which is perfect when you feel a little sticky from the heat. The only inconvenient is that linen has a tendency to wrinkle and crease, but this is the bohemian & casual look that this fabric is all about!
All hail, silk! Silk fabric is lustrous and has an incredibly smooth surface, it is extremely soft and pleasant to touch. If you love buttery smooth fabrics then Silk is the perfect textile for you. It is also wonderful because it is one of the best fabrics for sensitive skins due to its hypoallergenic properties, it does not irritate or cause allergies and you feel like you are hardly wearing anything at all. With heat skin can easily become irritated so Silk is a good option and it also keeps you cool as it is a very fluid material. Although it is expensive and needs special care like dry cleaning or hand wash, it could be a great fabric to invest in to treat yourself with silk outfits in the summer!
2. Comfortable styles for summer outdoors
Summer months and its sunny days are great for outdoor activities, weekend getaways, terrace lunches and cocktail on rooftops. To enjoy all the fun activities that summer brings, be sure to wear the right outfits to stay comfortable all day and night. Opting for light and thin clothes will be pleasant, as they are not restrictive or trap hear in your body. It will also guarantee that you will sweat less and if you do, it will be easier for perspiration to escape.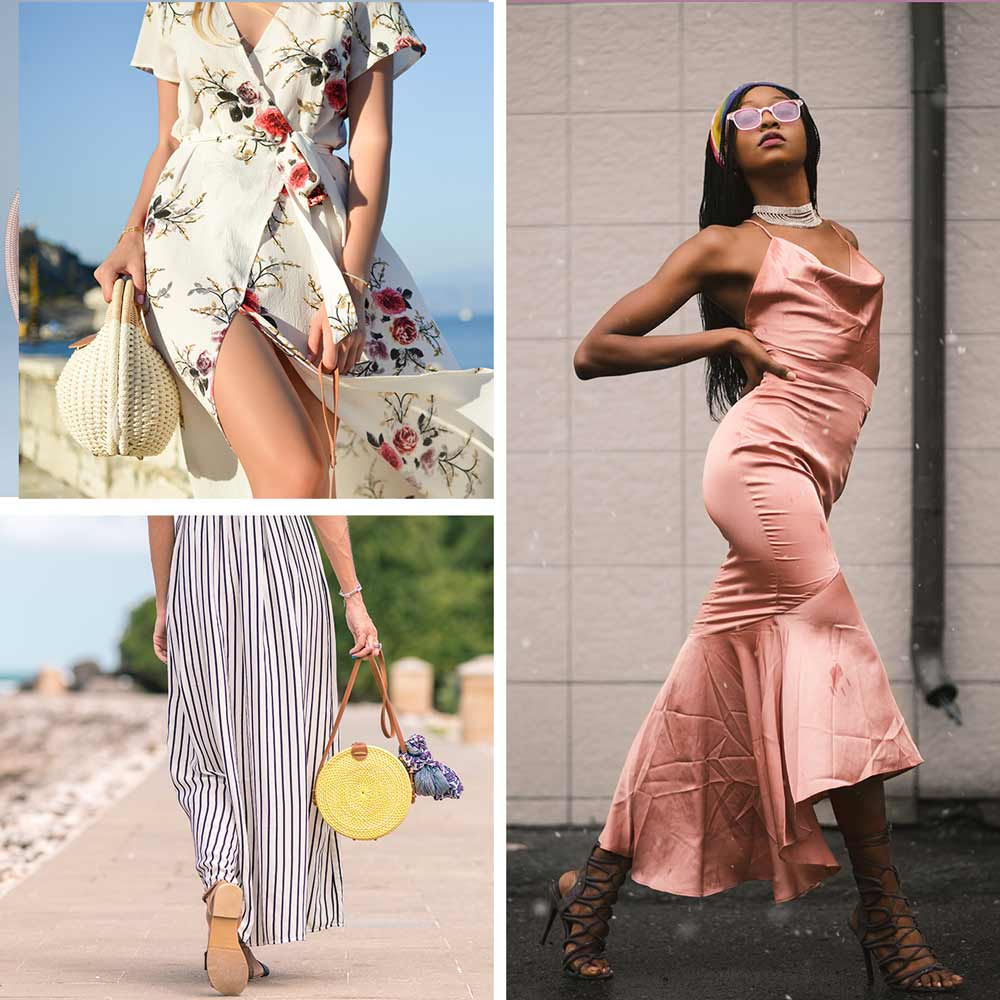 We personally love  casual loose dresses made from linen, a suitable outfit for your BBQ gatherings or evening with friends. Whatever your style choice, from a breezy white dress or loose floral pattern dress these are great choices to feel feminine and comfy. Maxi dresses are also a perfect summer must! They are stress-free choice, as they are easy to style and keep you feeling breezy all day. You can wear them in the city and are a great option for holidays and excursions at the beach.
Another fabulous outfit choice which is timeless and doesn't follow trends is a simple silk Slip dress. They can easily be worn on daytime outings and made into a more chic and dressy attire for evening wear. They are light and can be paired with a shawl or jacket if needed which is perfect for the summer months. If you want to go the more casual route, you could use a silk camisole instead and pair it with jean shorts or skirt. Still relaxed, lovely and good to escape the heat!
3. Breathable indoor summer wear
Although we love spending time outside in Summer, it is also nice to relax at home to have some 'me time'. To do so comfortably we have some great tips on what to wear indoors when the heat turns up! One of the most important things is to choose what you feel the best in, whether you want a full cover up or a more light outfit.
Ideally, choosing a simple one-piece Nightdress in linen is the perfect option to keep cool and look great even at home. Our stone washed linen nightdress adds a graceful feel to your silhouette and comes with adjustable lace straps for a bespoke fit. The v-neck can be as demure or sexy as you like and the details of lace add that extra special touch, unique details to make you feel fabulous while relaxing.
If you prefer a two piece combo then a camisole & short set in silk can work really well, especially if you highly appreciate comfort and convenience. In our opinion this loungewear set is a wardrobe must, always fresh and easy to wear. You can choose our exquisite 100% silk sateen camisole with adjustable silk straps and bi-colour border around the neck. Due to its breathable and soft properties, the outfit feels amazing against the skin and keep you nicely cool!