Heat waves, high temperatures and a scorching sun can also be part of this season and staying comfortable especially at home is primordial. Keeping cool in your interiors is so important, it will allow you to go on about your day as usual without any discomfort. So we've put together a list of some great ways to get summer ready and how to best prepare your routine and home for the coming warmer days. Read on to discover our 5 top tips for staying cool this Summer!
1. The right Bedsheets for a Seamless Sleep
Higher temperatures even at night may mean that the current bedding you have on your bed may not be suitable. You may want to switch that thick duvet for a lighter weight duvet or completely forgo it for a Top Sheet instead. Especially if your bedroom does not get a lot of natural air or if you do not have air conditioning, it is super important to have a lightweight blanket or sheet to survive those potential scorching summer nights. Sleep can easily be interrupted when you feel too hot, start to sweat and feel uncomfortable. So to maintain a good night's sleep, not only swap your duvets but we also recommend you should consider trying light Linen Sheets, which are known for being soft and breathable. With its highly absorbent nature, linen sheets can absorb moisture and allow the heat to escape from your body, bringing you ultimate comfort all night. A breathable linen top sheet is probably all you'll need. And you may keep a light bed throw nearby in case you do feel a little cold in the night and want to cover up. This may be the perfect comfort combination to create the best sleep space for summer nights.
2. Homemade thirst-quenching Drinks
Staying hydrated is probably the number one priority during hot days, as you perspire more under heat, your body needs more water to keep hydrated. So summer is the perfect time to explore new thirst quenching drink recipes to keep things interesting. Things you should avoid are sugary drinks, sodas and too much alcohol or caffeine which can dehydrate you further. Water is obviously always the best way to go, but you can definitely supplement this with some tasty alternatives that are also healthy. Homemade options are always better as you know exactly what is in your beverage, so try making watermelon juice, homemade lemonades, cucumber water or anything you fancy. Our personal favourite is the calming Lemon & Lavender Water recipe, this earthy and refreshing way to flavor water is so simple yet wonderful.
Ingredients (for 1 Pitcher)
1 tablespoon dried Lavender buds
1 Lemon
1 Litre of water
Instructions
Slice lemons, place them in your pitcher
Sprinkle the lavender buds over the lemons
Fill your pitcher with cold water
Add ice if you wish
Stir and Enjoy!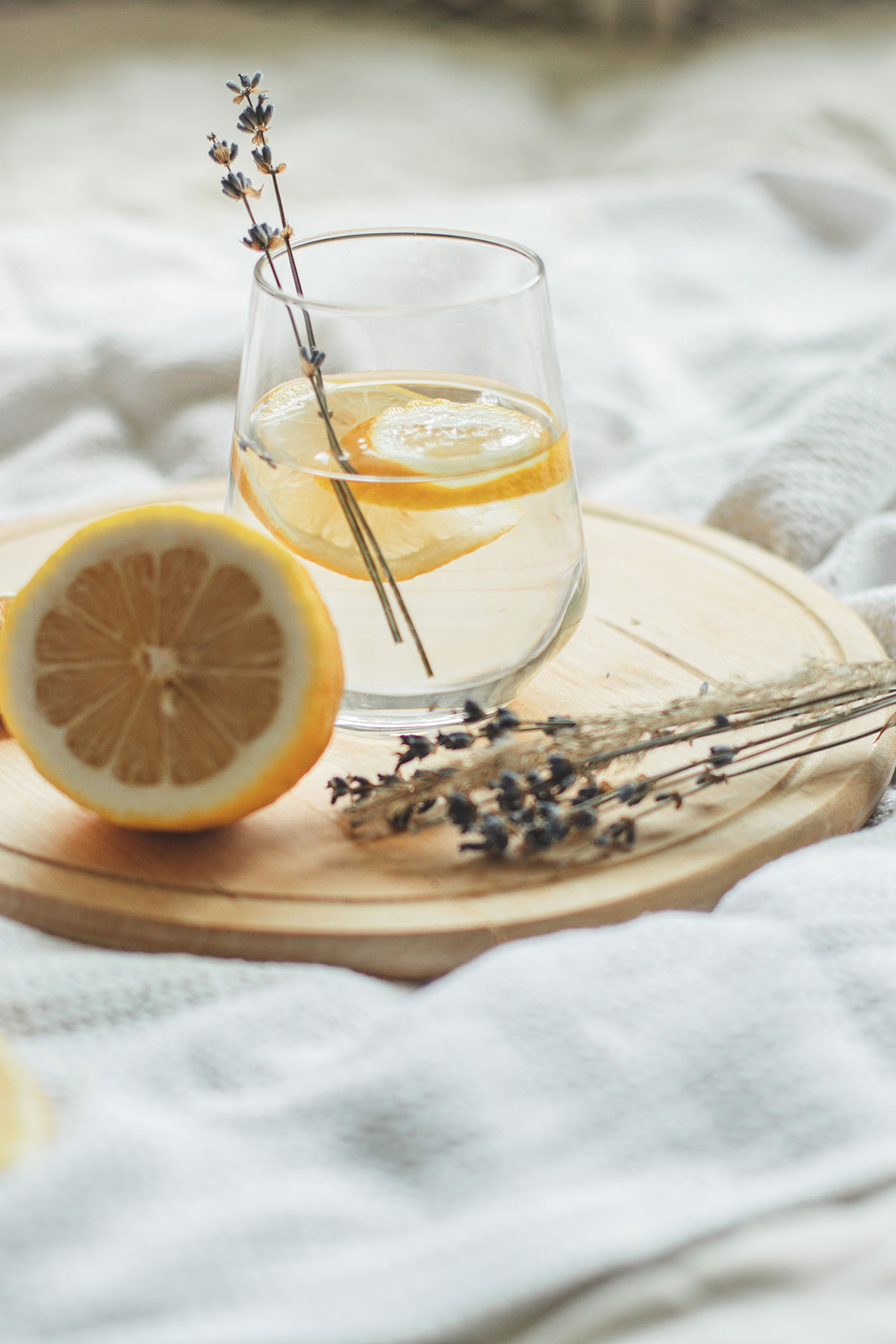 3. Switch your Exercise Routine
One of the more obvious reasons that many of us choose to exercise early mornings or late evenings is to avoid the heat. In summer days that heat will become even stronger, so if you are not already doing it, consider switching your exercise routine to earlier or later to enjoy your work out in cooler temperatures. In fact, exercising when it's generally cooler can prevent heat-related dehydration, heat stroke and fatigue throughout the day. Follow your session with a nice cold shower to help you cool down and you're your perspiration, and as tempting as it may be cold shower over hot shower may be the way to go! Before jumping in the shower, allow your body temperature to normalize by waiting 20 minutes or so. Use that time to stretch, make yourself a homemade smoothie or juice, read the news, whatever makes you happy!
4. Cooling effect Cosmetics
In the heat of summer, sensitive skins may suffer from swelling and redness under the changing season. Choosing the right cosmetics that feel great for you during these warmer months may take some searching around but once you have the right combination your skin will thank you. One thing you can start doing right away is looking for a toner or face mist, these are fantastic products that will aid in cooling your skin down. When irritated these kind of cosmetics can be a godsend, look for ingredients like mint, tea tree oil, cucumber or aloe vera for a cooling kick. Coconut oil is also a great cooling natural ingredient, and the great thing about it is that you can rub it onto skin, body, face and even hair! It has great cooling, hydrating and soothing properties. In the end, the important thing is to find what works for you. A pro tip, store some of your skin care products like masks and toners in the fridge for a short time before applying to prevent ingredients from losing their potency, and also to make them more soothing on skin. Especially after a lot of sun exposure, apply a pre-chilled mask or cold toner on your face for instant relief!
5. Must-Have Summer Wardrobe essentials
Getting your summer wardrobe out is so exciting and although new trends come and go, there are always those staple pieces that please every year. Must-have essentials that look great, make you feel good and keep you cool all season long. From the simple white t-shirt to the classic maxi dress, these are the pieces that every summer closet requires. Items in light colors absorb less heat than dark ones, so opting for creams, whites, light blues and so on are popular choices for the summer. Another important factor not to underestimate is the fabric. Clothes made from synthetic material are not breathable and airy enough, they will easily make you sweat and are uncomfortable in daily activities.
Opt for natural fabrics like Linen or Cotton which are known to be soft and breathable. For home, make sure you have one or two loungewear pieces that are lightweight and comfy for relaxing around the house and for sleeping. A Silk Nightdress or a set of linen camisole and short combo made are wonderful wardrobe fundamentals for staying cosy those summer days and nights.