When decorating for a masculine bedroom, we tend to keep to the rule "less is more' and play around with different textures and bold colour palettes. For accessories, keep only the necessary without adding too many details, in order to create a functional bedroom which are often a staple for men's bedrooms. Follow our 5 tips below to get some fab inspiration and create your very own masculine inspired room.
1. Masculine Color Palette
Colour is the first step to determine the style and feel you want to give the room. Planning a specific colour palette will help you immensely to create a cohesive design in your living space. Guys have a tendency to go for moody shades of darker colours to neutral tones like grey and white. Choosing a colour is a personal decision and the most important is to feel comfortable with seeing it everyday, so do some paint tests to see what you like, attempt shades of navy blue, greige, sand and even off white to create your own masculine vibe. Although monochrome tones are popular, a masculine room can also be broken up with some powerful texture, you may start with a single wall with wallpaper of geometric patterns in darker colours like black and blue or introduce a pop of daring colour. This can be strategically done behind the bed headboard while the rest of the walls are simply painted in an accompanying colour. Lastly, don't underestimate your flooring choice. In fact, the right flooring can kick off your entire room's theme. A cement or concrete floor creates an icy and manly look while a parquet evokes a classic elegance. Don't forget that a good rug can add that coziness and comfort to your space!
2.  High Quality Bed Linen 
At the heart of any bedroom is the bed and just because you want to achieve a masculine style does not mean you should 'rough' it on the sheets. Try using a sleek and fresh high-quality sheet with a high thread count to optimize your sleep quality. For the colour, remember to check back on your chosen colour palette for the room; if you are not sure, starting with white bedding is a smart move. But also allow yourself to get creative by perhaps starting with white bed linen but add some details on the spread like an embroidery pattern, a print or stripes. This can add more fun to the room and also make your personality stand out. If you're concerned that your bed may look quite monochrome, you could even use a coloured bed throw on the bed to add some life. To make your bed extra comfortable but still remaining moderate, add one or two decorative cushions that match the bedding for a touch of colour or texture to break up a plain look.
3. Imposing Bed Frame
The whole room breathes simplicity with some intelligently placed textures on the wall and bed linen, but with the bed at the centre of the room, a striking centerpiece can make all the difference. Although the room can be trim, choose a bed frame that stands out, a piece that really catches the eye. A masculine bed frame can be many things: sexy, edgy, large or even artsy.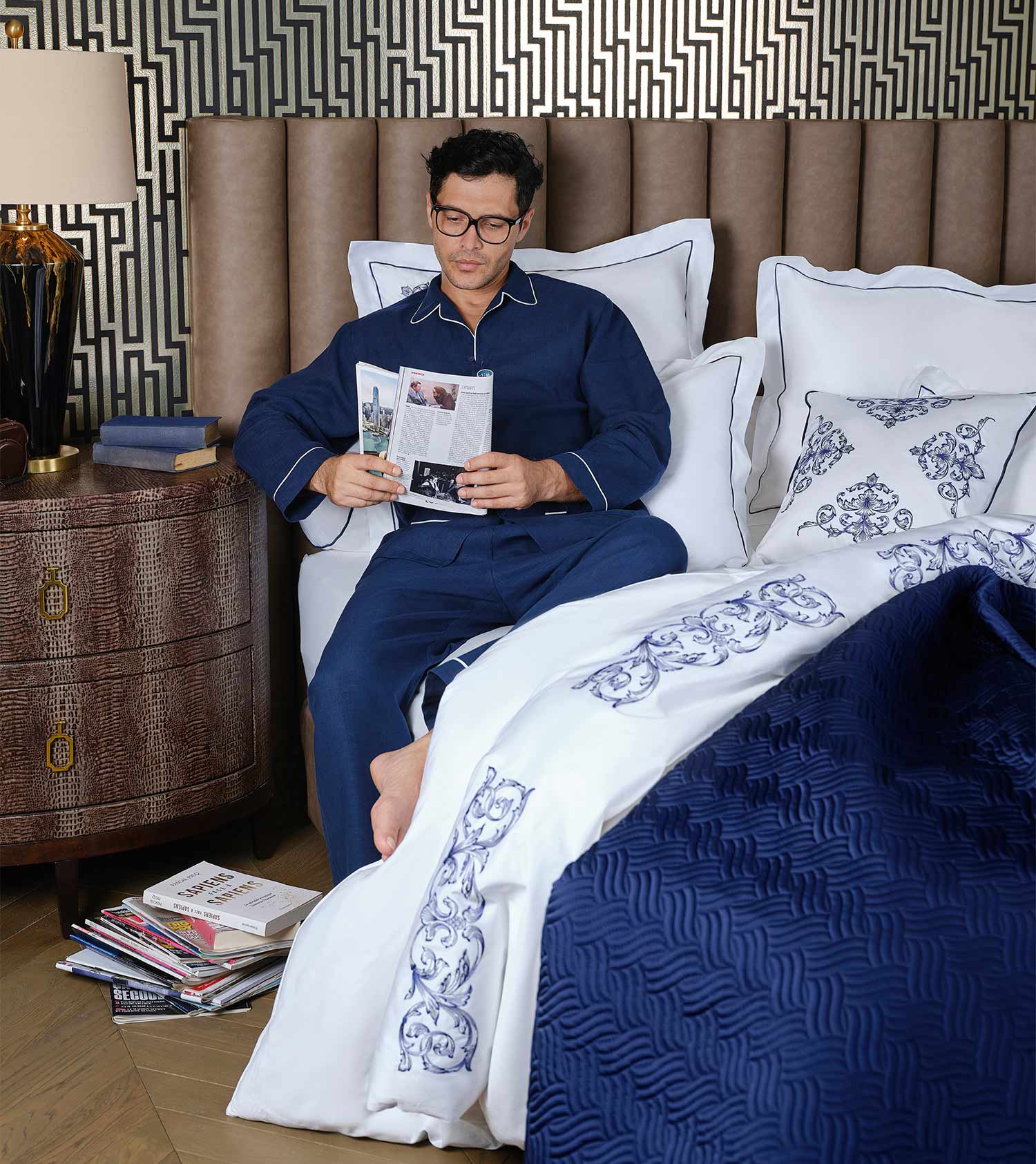 For a surefire way to construct an effective centerpiece, you can follow popular options which are easier to source and match with interiors, this includes leather or dark velvet upholstered bed. These types of bed frames can effortlessly fit a vintage, modern or industrial bedroom. A metal frame bed is another cool idea for a manly bedroom, from brass, to blackened metal or a silver coloured one. If you prefer the feel of an upholstered bed, remember your original colour scheme to make sure it fits in with the original idea. A wooden bed is a more traditional option but ideal for rustic and contemporary bedrooms. In the end, everything depends on the look of your bedroom, stick to what you want to achieve whether you are going for a Scandinavian Minimalist look, a Country Chic style or even a Vintage Sixties vibe.
4. Useful Room Accessories
Designing a man's space doesn't mean your options in terms of accessories are limited, just shift your focus. Keep in mind that your bedroom should not have useless 'clutter' but rather 'de-clutter' on things you don't really need. Opt for utilities that bring usage like a chic bed side table, or an alarm clock. Books are always a nice touch, especially older works with interesting or vintage hardcover bindings. And don't overlook textile pieces like scatter cushions, which remain an excellent option for adding colour, pattern and texture. You can put some cushions to create accents in your place but an avalanche of cushions or unnecessary accessories on the nightstand should be removed. If you're the type of man that needs his room to double as a workspace, a simple writing desk in the room gives you the space to get some work done while still keeping the room relaxing.
5. Give it a Personal Touch
Last but not least, a bedroom is at its core the most intimate part of the house and a place of personal space. So don't be afraid to really add your own character to this room, inject your own style and personality with objects or statement pieces. A sleek modern table with several drawers, or a wooden box fastened to the wall, which will also save some floor space. A movie nerd might appreciate a dedicated bookshelf for movie library while if you're a music fan, a modern record player or high-performance speaker is a must. Art wall hangings like a painting or photography is a great way to add a personal touch; while a statement wall mirror is also a good basic to showcase your style.
Here we leave it to you, because to be honest the sky's the limit…just remember your colour palette and materials to ensure a cohesive look and you'll have a great masculine space in not time!