If you have not tried Linen yet, we'd love for you to test it and we guarantee you won't be disappointed. With its amazing softness, Stone Washed Linen is known as the material used to make high-end bedding sets for years. This is the fabric we use to make our Linen sets. In this article, we've listed 3 incredible advantages to sleeping in linen!
1. Linen is tremendously soft and comfortable
At first glance, this natural fabric has visibly a natural texture as you will notice the linen fibres clearly compared to Cotton fabric which is smooth. Though Linen fabric may appear to have a more rugged and natural texture, in fact, is very soft against the skin. It has a silky feel and a fluid drape that you wouldn't expect. With a linen duvet cover you will always experience the puffy softness on your face and body. In time, with use and wear the linen will become even more supple through this handling. The initial natural wrinkles will softened and gain more elegance. This kind of comfort really helps with everyday wellness in your sleep space and timeless beauty is why we love Linen sheets so much!
2. Linen is breathable
Linen fibres are hollow which means that air can move freely through them naturally. Due to this, linen is very breathable and has great moisture regulation properties. Linen sheets are perfect for any weather because of the natural properties of the fibres themselves! Thanks to this great attribute, when you sleep because of this free circulation of air and moisture, linen bedding will keep you cool in summer months and trap warmth in colder weather. During cold months, layer a linen duvet cover or a blanket to keep the heat and warmth for your body. In case you may sweat as the weather becomes hot on summer nights, using a simple linen sheet and throw is a perfect choice for a good sleep all night! With its highly absorbent nature, linen-bedding absorbs moisture, interacting well with our skin and allowing the heat to escape from your body. Your natural sleep cycle will not be interrupted because perspiration evaporates off quickly and you will not feel sticky and uncomfortable.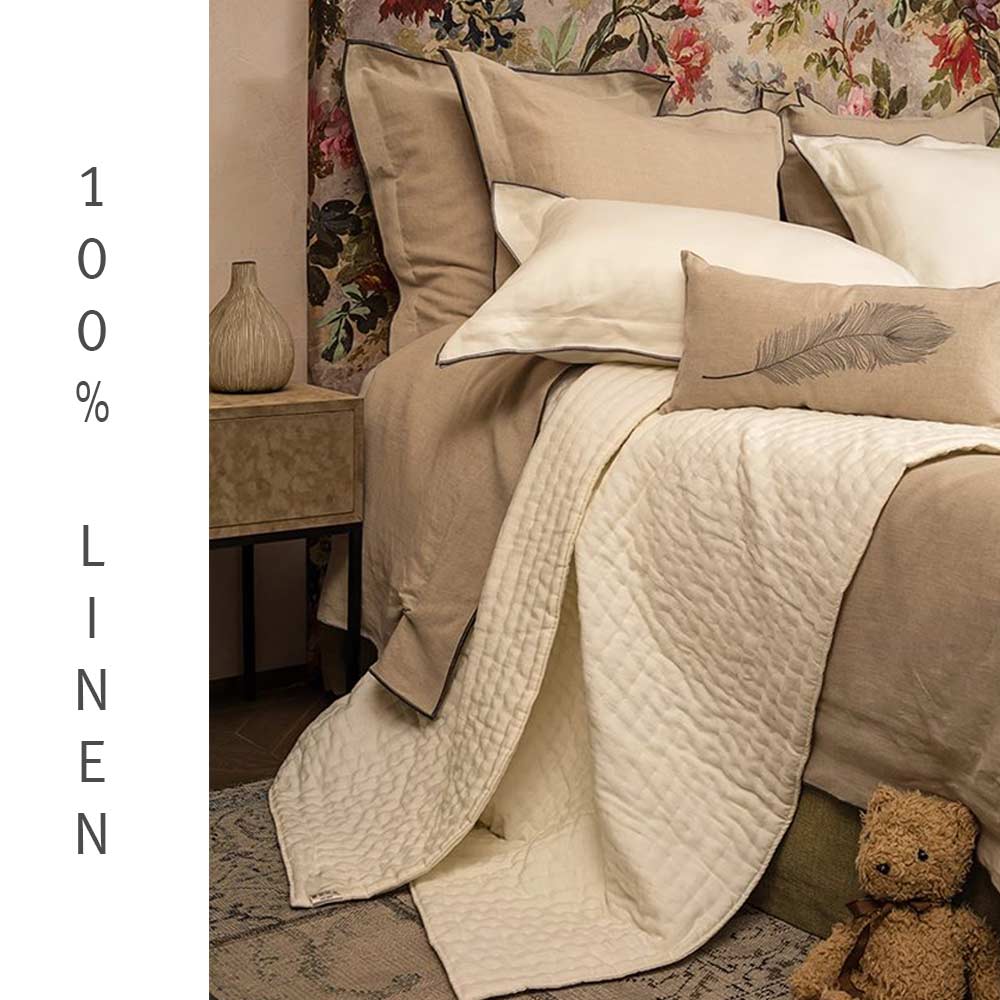 3. Linen is a durable and reliable material
Besides bringing the comfort you always desire, linen is extremely durable with low elasticity, it is incredibly long lasting with correct care. You can easily clean your beloved bed linen once every week or every two weeks and it will only make the linen softer not weaker. Made from the Flax Plant, Linen fibers are thicker and also longer than Cotton fibers which contributes to its strength and thus longevity. Linen sheets are truly timeless and it can be part of your household staple linens for ages while still retaining its natural beauty.
Although linen has tendency to crease easily and is more expensive than Cotton. Once deciding to spend in a high-quality Linen set, this piece could stay in your family for generations! In the long term, investing in your sleep is a wonderful thing and should be a top requirement. For all the its qualities listed in this blog, we love Linen for its comfort, strength and splendor. We hope you're convinced to give it a try!